What's in store for the St. John's NL area market in 2020?
Posted by Brad Bragg on Thursday, January 9, 2020 at 11:11 AM
By Brad Bragg / January 9, 2020
Comment
Curious to know what the 2020 market will look like? Are you interested in learning how 2019 was and how economic factors like population employment, wage growth and affected the markets?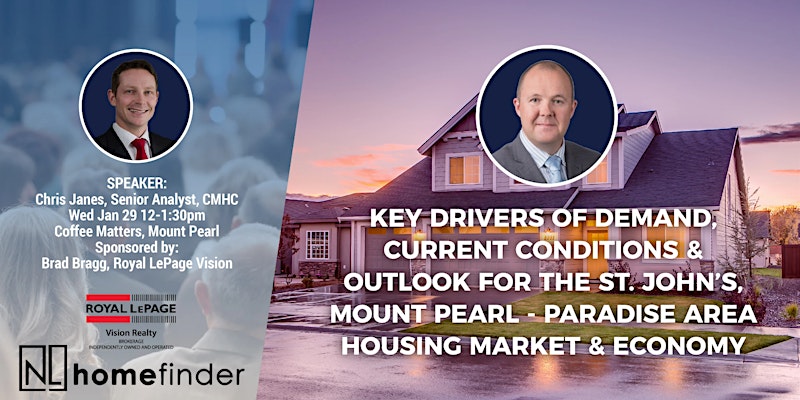 Presented by Chris Janes, Senior Analyst, Economics at CHMC and Sponsored by Brad Bragg, Realtor® Royal LePage Vision, come join our lunch and learn about the local real estate market and economic outlook for 2020.
This session, based on solid analysis and industry knowledge will help you make sense of the local real estate markets. Lunch will be provided and the session will be no longer than one hour. RSVP by registering for the event. Please note that space is limited.
About the Presenter:
Chris Janes is a housing market insights professional at Canada Mortgage and Housing Corporation (CMHC) focused on analyzing and communicating market dynamics contributing to housing affordability and stability in Atlantic Canada. Chris is a frequent speaker at industry events and conferences and is the primary media spokesperson for CMHC in the region. He is also on the board of directors of the Canadian Home Builders Association of NL (CHBANL) and an affiliate member of the Newfoundland and Labrador Association of Realtors (NLAR), the Nova Scotia Association of Realtors (NSAR), and the Prince Edward Island Real Estate Association (PEIREA). Chris, a St. John's resident is formally educated in business and economics at Memorial University in St. John's where he obtained bachelor and master degrees.
About the Sponsor:
Brad provides full real estate services to clients across Mount Pearl, Paradise and the Greater St. John's area. Clients appreciate his honesty, patience and conscientious attitude towards the tasks at hand. Brad offers a diverse and unique range of experiences, problem-solving skills and abilities. Brad's professional development has continued long after graduating with an Information Systems degree from St. Francis Xavier University(StFX) . He currently volunteers for his local StFX Chapter and the Royal LePage Shelter Foundation. Having been a member of the Mount Pearl-Paradise Chamber of Commerce(MPPCC) since 2015, Brad volunteers as a Director in order to improve upon his professional and leadership skills. He enjoys being a participating member and promoting the growth and development of a prosperous business community in Mount Pearl, Paradise and the Greater St. John's Area.
About the Venue:
CM Cafe - Since 2007, Coffee Matters is focused on providing their customers the very best - from freshly roasted coffe beans to homemade soups and sandwiches. Their shops are a little different than most chains as they feature down-home Newfoundland hospitality, plush seating, free WiFi and a comfortable atmosphere to enjoy the little things in life.
Their full service catering options can bring the party to you or you can also enjoy onsite catering. For offsite events, their precooked and prepared food is heated and served at your location keeping space and clean up to a minimum. Be it traditional or something different, elegant or casual, Coffee Matters' talented chefs always deliver with an incredible experience from start to finish. Make sure your event goes off without a hitch and leave your guests raving - call Scott at Coffee Matters for your next catering event!
About the Mount Pearl - Paradise Chamber of Commerce(MPPCC):
Our key role is representing the views of the business community on municipal budgets, economic issues, legislation, infrastructure, federal and provincial policies, etc.
Chamber members have multiple opportunities to connect with potential clients and service providers, many of which offer member discounts. Our networking and visibility events include lunch & learn, business mixers, our annual tournaments and the Best in Business awards banquet.
We're proud to give our members affordable, exclusive services, benefits and discounts through our Member Affinity Programs.