Just Released: The Q4 2019 Royal LePage House Price Survey
Posted by Brad Bragg on Thursday, January 9, 2020 at 8:17 AM
By Brad Bragg / January 9, 2020
Comment
According to the Royal LePage House Price Survey released today, the aggregate price of a home in St. John's decreased 0.7 per cent year-over-year to $324,735 in the fourth quarter of 2019.
The median price of a standard two-storey home in the area increased 0.7 per cent year-over-year to $360,217 in the fourth quarter. The median price of a bungalow decreased 2.0 per cent year-over-year to $296,594 during the same period.
Nationally, the aggregate price of a home in Canada increased 2.2 per cent year-over-year to $648,544 in the fourth quarter of 2019. Similar to the third quarter, potential buyers are continuing to come back to the real estate market. In the first half of 2019, buyers had remained largely at the sidelines waiting to gauge the potential impact of the federal mortgage stress test.
Compare the St. John's decrease to another market - Calgary: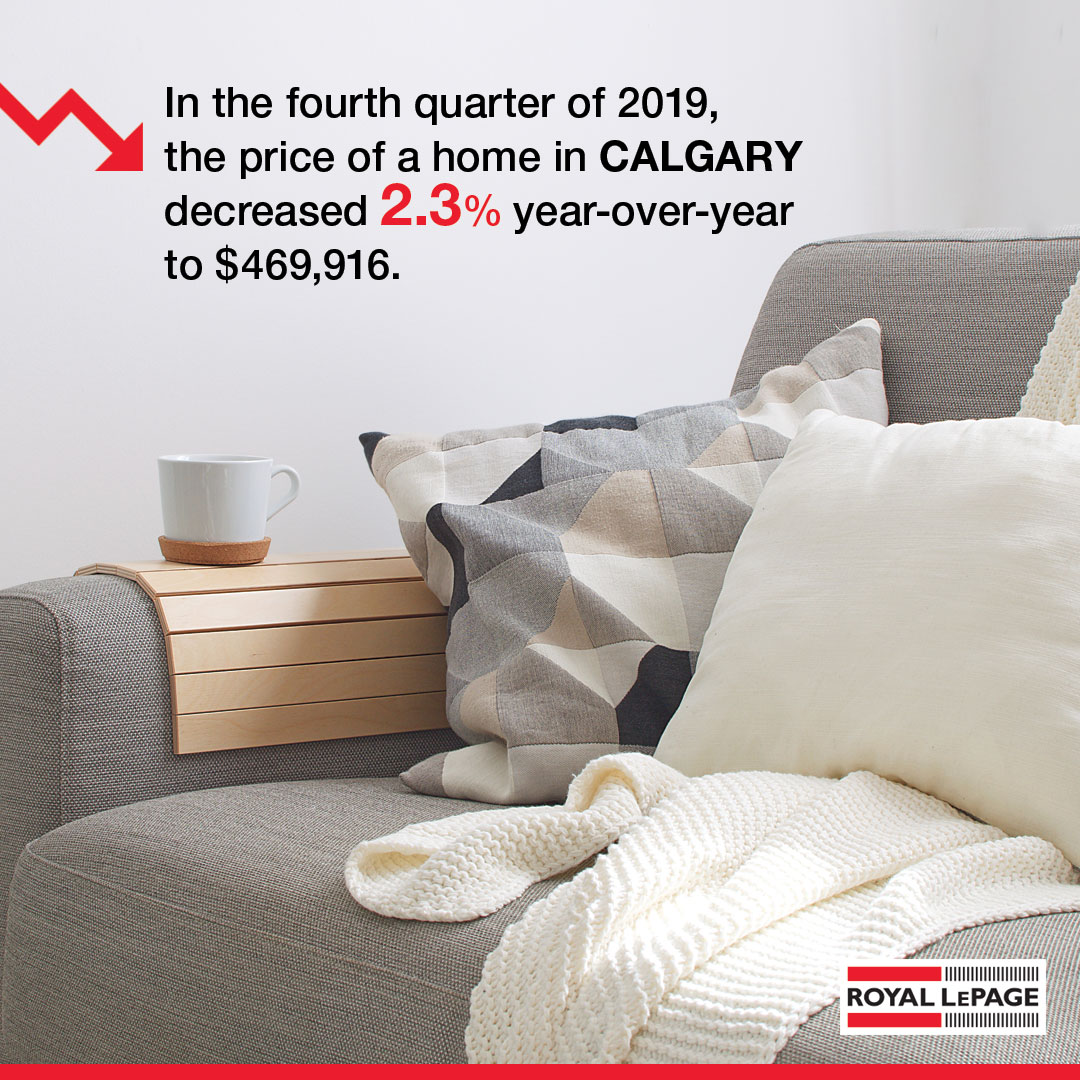 And in Halifax, another quarter with a modest decrease.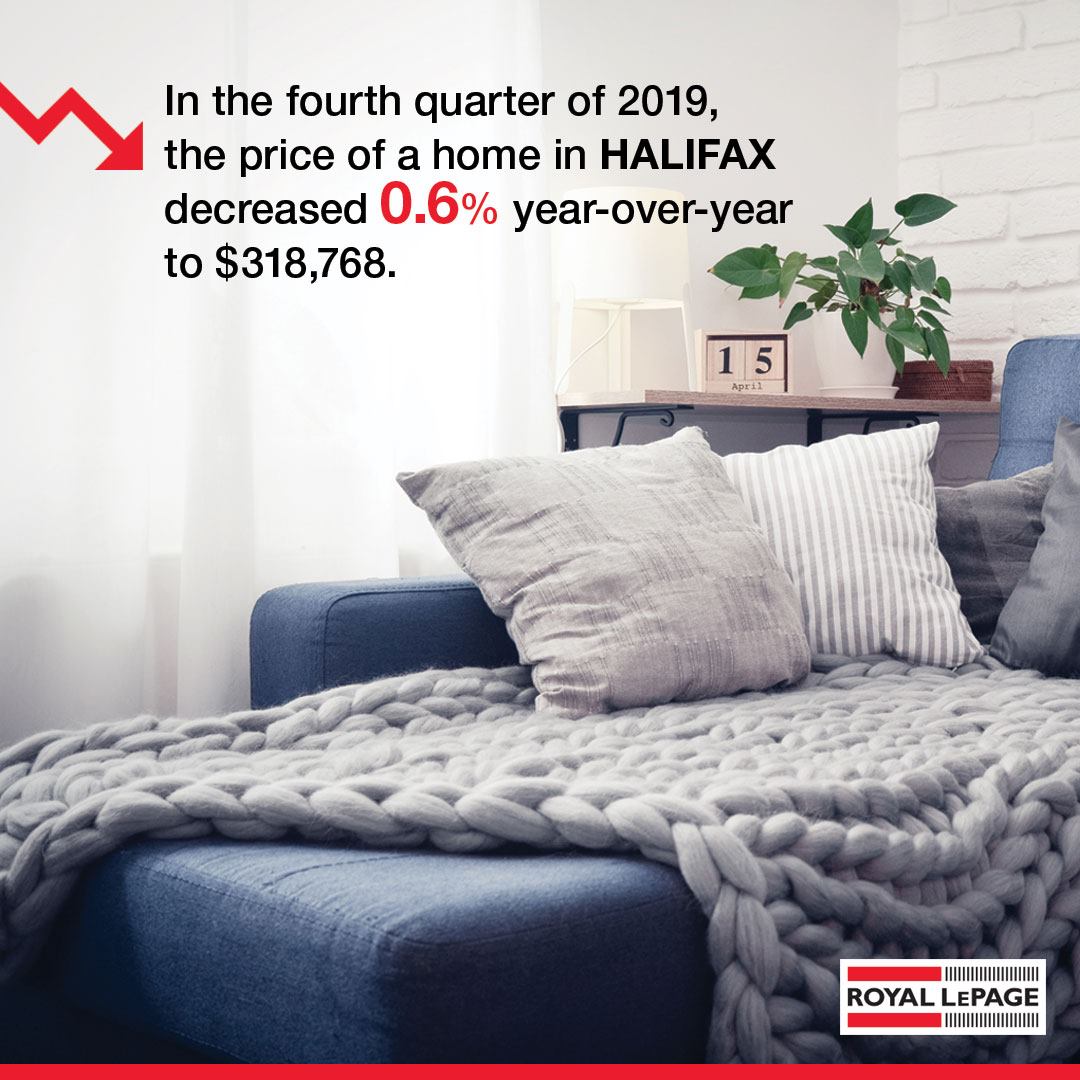 According to a Moody's economist, St. John's prices have decreased by around ten percent since 2015, which makes the market "below trend". Moodys projected housing prices to increase by more than six per cent over the next few years and lead the country in growth.
With a continued increase in sales, the fall of house prices may be slowed, and coupled with the improving and stabilizing economic situation of the province there is much hope for the market in the province.
The Canadian Mortgage and Housing Corporation(CMHC) Housing Market Assessment (HMA) (.pdf) stated that "The St. John's area housing market maintains an overall low degree of vulnerability. Despite improving employment levels and gains in real personal disposable income, overall housing demand remains relatively low.
Demand has been affected negatively by a lack of population growth among young adults and ongoing fiscal uncertainty within the provincial government due to volatile oil prices. This has resulted in flat sales and listings activity and downward pressure on prices, therefore keeping the overheating, overvaluation and price acceleration indicators below levels of concern.
Moderate evidence of overbuilding, however, has persisted in St. John's. Although the upward trend in completed and unsold inventory appears to be reversing, the number of completed and unsold units relative to the population remains relatively high, with low demand for higher priced new homes and interprovincial out-migration dampening new home sales activity."
About the Royal LePage House Price Survey
The Royal LePage House Price Survey provides information on the three most common types of housing in Canada, in 64 of the nation's largest real estate markets. Housing values in the Royal LePage House Price Survey are based on the Royal LePage Canadian Real Estate Market Composite, produced quarterly through the use of company data in addition to data and analytics from its sister company, RPS Real Property Solutions, the trusted source for residential real estate intelligence and analytics in Canada. Commentary on housing and forecast values are provided by Royal LePage residential real estate experts, based on their opinions and market knowledge. About Royal LePage Serving Canadians since 1913, Royal LePage is the country's leading provider of services to real estate brokerages, with a network of over 18,000 real estate professionals in over 600 locations nationwide. Royal LePage is the only Canadian real estate company to have its own charitable foundation, the Royal LePage Shelter Foundation, dedicated to supporting women's and children's shelters and educational programs aimed at ending domestic violence.